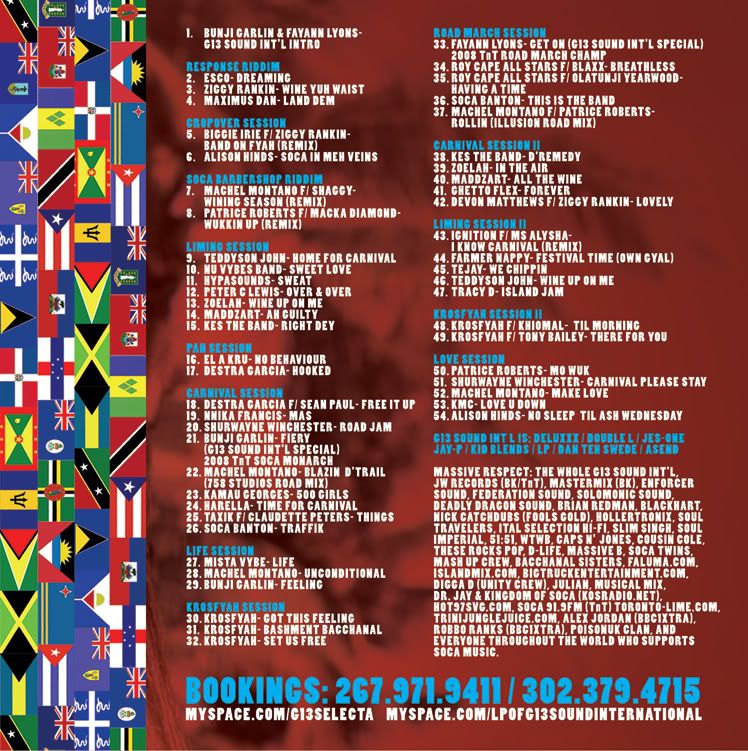 Huge mix from
LP
and
Double L
. The fourth, and biggest, of the Home For Carnival series. Get on this shit.
BUNJI GARLIN/FAYANN LYONS INTRO- RESPONSE RIDDIM- BAND ON FYAH (RMX)- SOCA IN MEH VEINS- SOCA BARBERSHOP RIDDIM
Download
NO BEHAVIOUR- HOOKED- FREE IT UP- MAS- ROAD JAM- FIERY (G13 SPECIAL)- BLAZIN' D' TRAIL (ROAD MIX)- 500 GIRLS
Download
D' REMEDY- IN THE AIR- ALL THE WINE- LOVELY- I KNOW CARNIVAL (RMX)- FESTIVAL TIME (OWN GYAL)
Download
For physical CD copies: PayPal $5 ($7 outside of the US) to ADobson302@aol.com. Both prices include shipping- so don't sleep! Please include name, shipping address, and quantity. Prompt shipment is guaranteed.
For an uncut 320 mp3 file (for easy iPod access): PayPal $2 to ADobson302@aol.com. Please provide the email address you want the download link sent to.