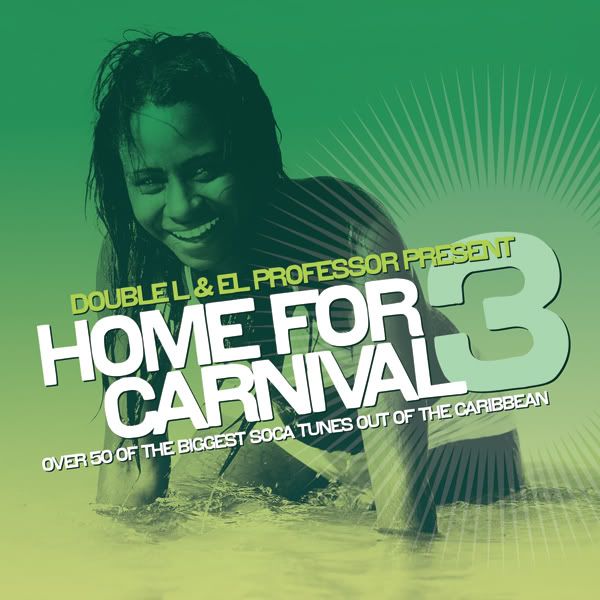 Professor Sound
and
Double L
of the G13 Soundsytem got their new Home For Carnival 3 out for sale now. I've already listened to it a grip of times, so I can assure you, it's all heat. You have to buy this. Paypal $5 ($7 outside of the US) to ADobson302@aol.com, that includes shipping and all that, so do it.
"For all the fans and supporters of soca music, supporters of G13 Sound Int'l, people who appreciate Caribbean vibes and culture, and even for the haters- we present to you Home For Carnival 3. As great as the first two mix CDs were, #3 in the series absolutely levels everything in it's path. Big up to the bloggers and everyone who has helped us push our mixes well past Philadelphia and New York City- to so many parts of the world. Soca has got next in terms of world vibes, and G13 Sound Int'l is one of the soundsystems who are ready to make you expand your body and embrace the culture and the Carnival spirit that is we. Big up to Frank at JW Records in Brooklyn and MasterMix out on Church Ave for helping G13 Sound Int'l begin to break ground in New York City. Also big up to Nick Catchdubs for bringing the fiyah with the cover art once again.
From the Tropic of Cancer to the Tropic of Capricorn- this mix goes hard, and contains MORE of the biggest tunes out of the the various Carnivals throughout the Caribbean torn through by Double L & El P. Given that Soca is a very annualized sound, Double L and I put this mix together for a third (and far from final time) to represent the best of Soca over the past few years. Nothing less than the biggest tunes here- right up up up to di time. If you don't know much about it, and are looking to get into Soca- this is a great time to get up on some game with a tight mix (for cheap!).
To get yours today, Paypal $5 ($7 outside of the US) to ADobson302@aol.com. Both prices include shipping- so don't sleep! Please include name, shipping address, and quantity. Prompt shipment is guaranteed."
Check out the mp3 samples:
Intro- Soca Strings Riddim- Look Excuse- Send Dem Come- Hardcore Lovin- Let U Know
The Game of Love & Unity- The Game of Your Life- Expose (Road Mix)- Spirit Call- Carnival (Remix)- Fly Away- Sign
Japenese Wine- Heart of A Man- O' Larki- Kya Jadu Hai- Wave- That Is Carnival- Make A Stage- Jumbie
Miss Lady- Don't Matter (Calypso Mix)- Sexy Waist- Cold Sweat- It Feels Like- Born Fuh Dis- Losing Control