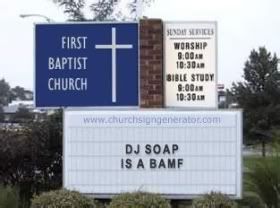 Got this mix from
DJ Soap
outta Lawrence, KS a few days ago, but because I'm swamped with school work, I never got a chance to listen to it or post it. We get a lot of crap, but this mix is pretty decent, a lot of good tracks. Done with serato and decks.
Megaupload DL
Zshare DL
Runtime is 39 minutes..
Tracklist:
01. Armand Van Helden - NYC Beat (MSTRKRFT Remix) - Southern Fried
02. Rene Amesz & Peter Gelderblom - Snap (Darren Mase Mix) - Rising Trax
03. Lil' Jon - Snap Yo Fingers (Acapella) - TVT
04. Larry Tee feat. Princess Superstar - Licky (Herve Goes Low Remix) - White Label
05. Frederico Franchi - Cream - TRSE
06. Wu-Tang Clan - C.R.E.A.M. (Acapella) - roud
07. Intoxicated - Burn It Down (Hatchmatik's Burn Down The Club Remix) - White Label
08. Basement Jaxx - Hey U (Switch & Sinden Remix) - Atlantic Jaxx
09. Mighty Dub Katz - Magic Carpet Ride '07 (Young Punx Remix) - Southern Fried
10. Artie The 1 Man Party - Esa Nena Linda (Artie's Loop) - Scotti Bros.
11. Claude VonStroke - Chimps - Dirty Bird
12. No Alibi - Who Came To Party (Acapella) - Jasper Stone
13. Superbass - I'm With You (Richard Dinsdale Remix) - Toolroom
14. Mika - Love Today (Switch Remix) - Umvd
15. Therese - Feelin' Me (Armand Van Helden Remix) - Positiva